Some good news has finally emerged from the Gaza war. After the barrage of 130 rockets fired by Hamas on Israel on Wednesday, the IDF finally did what we have all been hoping for from the start of this war – and even before then: The commander of the Izz ad-Din al-Kassam, the "military wing" of Hamas (as if there's any kind of wing) Mohammed Deif has allegedly been killed – though he seems to rise from the dead after every attack – and his wife and child too. And in a later strike the three top Hamas commanders were killed in an IAF air strike.
In the case of Deif, both Hamas and Israel are remaining cagey about what happened. Deif's alleged death certificate from Shifa hospital was displayed online, sparking a huge debate whether it was genuine or not.  Israel says the IAF did indeed kill Deif while Hamas deny it.
Hamas said the air strike on the home of the al-Dalou family in the Sheikh Radwan neighborhood of Gaza City killed Deif's wife and infant son, but not him.

The three-story home was reportedly hit by five missiles, Palestinian news agency Ma'an reported. The report said a third, unknown person was also killed.

Hamas also further threatened Israel, saying "We are warning international airlines and press them to stop flying into Ben Gurion airport from 6 am (0300 GMT) Thursday," said Al-Qassam Brigades spokesman Abu Obeida in a televised speech.

A member of the Palestinian delegation in Cairo said the heavy barrage of rockets fired on Tuesday night was a response to the "massacre" at the al-Dalou home, the home Deif's wife and son were in.
I waited expectantly for the 6 a.m. alarm (i.e. I was fast asleep) and their threat turned out to be an empty one.
The Ynet article has more background on Deif and his shadowy life:
Deif has been repeatedly targeted by Israel, attacks in which he is believed to have been seriously wounded. Until Tuesday, the most recent – and fifth – attack came in 2002, shortly after he was named Hamas' military leader.

That attack left him severely wounded, and some rumors suggested he had been left paraplegic, although these were never confirmed, largely due to the secrecy surrounding the details of his life.

Deif delegated the leadership of the brigades to his deputy, Ahmed Jabari, thus earning the nickname the "cat with nine lives" among his enemies, and cementing his reputation inside Gaza.

Born in the Khan Younis refugee camp in southern Gaza in 1965, Deif has been involved in Hamas operations for more than 20 years, plotting suicide bombings inside Israel, kidnapping soldiers, firing rockets and helping plan the tunnels used to launch attacks.

He was appointed the military wing, the Izz ad-Din al-Qassam Brigades, in 2002 after the death of his predecessor, Salah Shehade, in an IAF strike on Gaza.

But Deif had had a long yet shadowy career as a militant even before then. His involvement with the Islamist movement in Gaza began in the 1980s when, as a biology student close to the Muslim Brotherhood, he headed the Islamists' union at Gaza Islamic University.

With the eruption of the second Palestinian Intifada in 2000, he escaped, or was freed, from a prison run by Yasser Arafat's Palestinian Authority. His departure from prison angered Israel, which by then had had him in its crosshairs for more than a decade.

Master of disguise

Only a few, poor-quality photographs of Deif are known to exist, the most recent taken some 20 years ago. His hiding place were unknown, and he was said to have been a master of disguise able to blend seemlessly into the population.

He also used no techonology that might allow Israel to track him, a Hamas official told AFP on condition of anonymity.

Deif may have learned caution from the death of his mentor, Yahya Ayash, who was killed in 1996 by a mobile telephone booby-trapped with explosives by Israel.

Deif's real name is Mohammed Diab al-Masri, and he owes his 'nom de guerre', which is Arabic for guest, to his habit of constantly changing his location, the Hamas official said. He described Deif as a man who is "polite, discreet, softly spoken" and fascinated by "military strategy".

The elusive leader's public statements are extremely rare. In 2012, he warned Israel against launching Operation Pillar of Defense, which was aimed at halting rockets fired by militants in the Gaza Strip.

After the death of his mentor Ayash, who passed on his explosive-making expertise, he took on the role of "engineer for the Izz ad-Din al-Qassam Brigades", the IDF says in its blog.

Israel sees him as the mastermind of the campaign of suicide bombings that targeted buses and public places in Tel Aviv and Jerusalem until 2006, and considers him "personally responsible for the deaths of dozens of civilians."

He also played a key role in the strategic development of Hamas, Israel says.

It claims that Deif was among the militants "who designed the Qassam rockets" – the Islamist movement's signature weapon with has a range of eight kilometers, until Iran supplied them with more advanced missiles.
I really hope the news is true.
Meanwhile the IDF were kept busy chasing other terror heads, killing three more senior Hamas commanders overnight:
Three senior Hamas commanders, including the head of Hamas's southern command in the Gaza Strip, were killed in Rafah Wednesday night, both Israel and Hamas confirmed Thursday morning.

…

Prime Minister Benjamin Netanyahu praised the Shin Bet's "exceptional intelligence" and the IDF's operational activity, which led to the detection and successful assassination of Hamas head of southern command Mohammed Abu Shamaleh, Rafah commander Raed Al-Attar, and senior weapons smuggler Muhammad Barhum

…

Abu Shamaleh and al-Attar were said to have played central roles in the abduction of IDF soldier Gilad Shalit and in other high-profile attacks against Israelis.

…

The Shin Bet also named al-Attar as one of the architects of Hamas's offensive tunnel operations in southern Gaza and as the head of the division that killed Israeli soldier Lt. Hadar Goldin while attempting to kidnap him. He was also allegedly responsible for smuggling weapons into Gaza from Sinai.

Barhoum, also killed in the strike, was a senior Hamas operative in Rafah responsible for smuggling weapons into Gaza from neighboring Egypt, Israel said.

Gaza emergency services spokesman Ashraf al-Qudra said eight Palestinians were killed in pre-dawn air strikes on Thursday — seven in Rafah and another in Nusseirat refugee camp in central Gaza.

It was not immediately clear if the three dead commanders were among, or in addition to, the seven dead recorded by medics.
The IDF tweeted this info-graphic: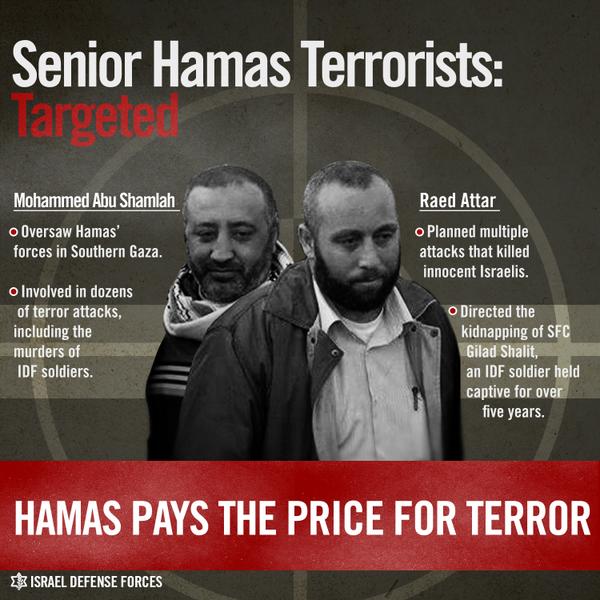 Not that this will be the end of Hamas, at least for the moment. They are like a multi-headed hydra. As soon as you cut off one head, another one grows. This is one of the concerns of the Israeli authorities, along with the worry that Hamas will davka escalate their attacks on Israel to take revenge for the killings and to prove that they are still a force to be reckoned with despite their leader's assassination.
Hamas has suffered a fair number of blows since the start of the conflict with Israel. Hundreds of gunmen from its military wing have been killed, many of its tunnels have been destroyed, and its rocket stores have been depleted. But the overnight strike on a home in the Tel al-Sultan district of Rafah was the harshest blow – militarily and in terms of morale – that it has sustained since the start of Operation Protective Edge.

Three of its most senior commanders in the southern area of the Strip were assassinated in the Israeli airstrike, in an operation that, for the first time, demonstrated that Hamas has been penetrated by Israeli intelligence, enabling the targeting of its most senior command echelons.

…

The Shin Bet, as the intelligence behind the strike, and the IDF, as the operational arm, targeted the trio in a building in a crowded Rafah neighborhood on one of the heaviest days of fighting thus far. […] . Given that the fighting had re-escalated since Tuesday, and that Israel was known to be trying to hit the Hamas military leadership, the three had taken every possible precaution to evade Israeli intelligence. Those precautions simply were not good enough.

It can be assumed that whether or not Muhammad Deif is still alive, those members of the Hamas military leadership who have survived are now desperately trying to figure out what went wrong. How could it be that after long weeks in which Israel was unable to get to any of the heads of the military wing, now, within 48 hours, the Shin Bet located one of Deif's hideouts and killed three other members of the Hamas general staff?

It should be stressed again: Two of the three were not mere senior commanders of the Izz ad-Din al-Qassam Brigades. Muhammad Abu Shamala, the "head of the southern command" and Raed al-Attar, the commander of the Rafah area, were part of the founding generation of the Hamas military wing — along with Deif and several others who are no longer with us, including Mahmoud Al-Mabhouh and Emad Akel. They were among Deif's closest brothers-in-arms — long-term veterans with experience and knowledge that cannot be easily replaced.

Abu Shamala and al-Attar are tied to almost every major attack in and from the Rafah area since 2001. These include the kidnapping of Gilad Shalit on a tunnel raid into Israel in which two other soldiers were killed, and even the killing of 16 Egyptian soldiers on the Gaza-Sinai-Israel border two years ago. Thus the two had tangled not only with Israel, but also with Egypt, which knew of their ties to terrorist organizations in the Sinai.

…

Their colleagues in the military leadership — Marwan Issa, Muhammad Sinwar, and whatever may remain of Deif — will try to return to business as usual as soon as possible given the pressure under which Hamas now finds itself. That is to say Hamas will make every effort, every desperate effort, to carry out attacks — and that includes in the West Bank and in Israel.

In the next few days, Hamas will try to use every military means at its disposal: the rockets it has saved for a "moment of truth," any of its cross-border attack tunnels that may remain, West Bank suicide bombers — anything to prove to Israel that Hamas has not been defeated and is still standing.
Seeing the results of Israel's targeted assassination policy, one would be justified in wondering why on earth Hamas broke the ceasefire in the first place when it seemed that they were on their way to gaining great concessions from Israel at the Cairo talks.
Wonder no more. Rumour has it that it was Qatar that threatened Hamas head coward Khaled Mashaal with expulsion if Hamas accepted the Cairo deal;
Arabic daily Al-Hayat reported Wednesday that Doha warned it would deport Mashaal if he approved the agreement in its current form, without insisting that Hamas's demands — which include the construction of a seaport and airport in the Gaza Strip — be met.

Citing a member of the Palestinian delegation to Cairo, the newspaper said Qatar demands that Egypt give it a role in ending the Gaza crisis. Egypt, however, reportedly rejected the demand, conditioning its agreement to it on Qatar formally apologizing for its policy toward Egypt since the ouster of Islamist president Mohamed Morsi's in June 2013.
And yet Qatar is still the destination of choice not only for PA "President" (or is that Chairman?) Mahmoud Abbas, but more importantly and much more seriously, for US Secretary of State John Kerry. With all the evidence pointing so clearly at Qatar, what is Kerry, and the Obama Administration, playing at?
Equally, three Arab-Israeli MKs visited Qatar last week. As Israel Matzav says, they should be expelled from the Knesset, if not from Israel, for treason in the light of Qatar's protection and promotion of Hamas.