As I have said over the last few weeks, despite the "matzav" (security situation) and despite the incitement and antisemitism – or maybe precisely because of all that = I feel the need to post some good news before Shabbat. Therefore here is this week's Good News Friday installment.
I'm going to start with a great #BDSFail. The Olympic Committee has dropped Kuwait because of its ban on an Israeli athlete:
The International Olympic Committee (IOC) on Thursday revoked the Olympic qualifying status of a shooting championship in Kuwait, after the country refused to grant a visa to an Israeli official for the event.

The Asian Shooting Championship scheduled from November 1 to 12 had been a qualifier event for the Olympics, but the International Sports Shooting Federation (ISSF) requested that be negated given the incident, reports The Associated Press.

The IOC executive board decision on that request came after ISSF's technical delegate, Yair Davidovich of Israel, was refused a visa by Kuwait to supervise the event for the federation.

"The denial of a visa is against the non-discrimination principle of the Olympic Charter," the IOC said. "The Olympic Charter must apply for all Olympic Qualification competitions."

Thursday's decision comes only two days after the IOC suspended Kuwait's national Olympic committee, after it breached the October 27 deadline to amend its legislation of government interference and start acting independently.

Just two weeks ago, FIFA suspended Kuwait's soccer association for the same exact problem.

What the current state of affairs means is that Kuwaiti athletes will not be allowed to represent their country at next year's Olympics, held in Brazil's Rio de Janeiro.
Excellent! As it is said in Megillat Esther: והשיב לו כגמולו על ראשו – his actions were repaid back on his head. Or, in another Biblical proverb, "Measure for Measure" (Shakespeare stole it…). Boycott for boycott, ban for ban. Let those who hate Israel think twice before they act. I must admit an extra dose of glee at this news since the IOC is not known for being pro-Israel.
On a similar theme, after 343 ignorant, bigoted UK academics published a letter in the Guardian calling for a boycott of Israel, this full-page ad appeared in the Guardian's pages: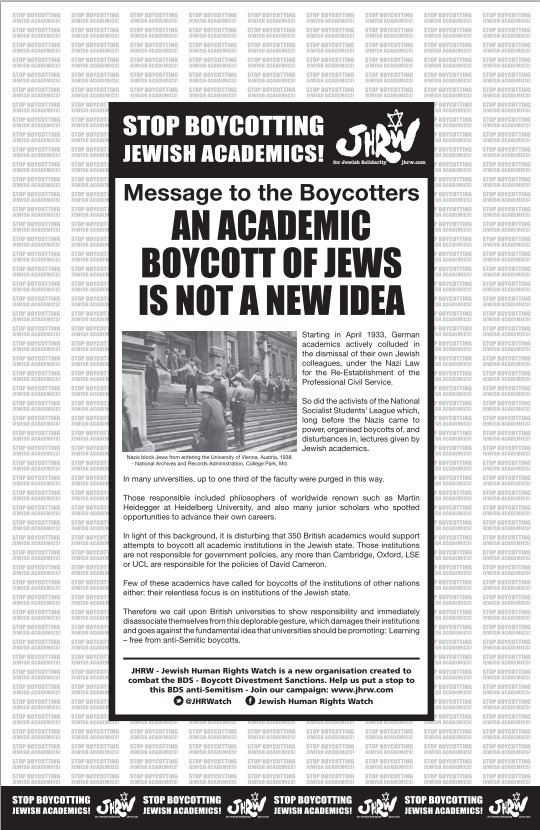 Kol hakavod to those who organized the ad.
More on the "Israel is not isolated" theme: The Israeli and German armies (!!) held a joint training exercise over the last 3 weeks to practice urban warfare:
Germany and Israel have conducted several joint exercises in urban warfare as part of the largest-ever collaborative training held between the two nations.

More than 100 German soldiers came to Israel to train at the Tze'elim army base in the south of the country, bringing with them five heavy military vehicles. The soldiers arrived several weeks ago and will stay in Israel until Friday.

"We've had experience in that over the past 10 years—in Afghanistan and Kosovo. The Israeli army also has experience," said German Brig. Gen. Ernst-Peter Horn., who came with the soldiers to Israel, according to Haaretz.

The exercises are being held despite the ongoing violence in Israel. The German soldiers were also invited to Friday night Shabbat dinners with Israeli families. "I didn't know what to expect, but it wasn't different from my family back home," one soldier said.
The 110 German soldiers from the 1st Panzer Division were joined by the deputy divisional commander, Brig. Gen. Ernst-Peter Horn. During his stay he visited Yad Vashem; he said he felt a duty to visit the Holocaust research center and memorial on his first visit to the country.

…

The soldiers visited Jerusalem and did not feel the tension, one of them said. They did not, however, wear their uniforms on their visit to the city.

During their month at Tze'elim, the Germans blended in, doing kitchen duty like all other soldiers there. They also joined reserve soldiers in evening sing-alongs.
Despite the warm relations between the two countries I still find it utterly mind-boggling to read that headline. I can't help but think "what would our grandparents have thought?". Of course the answer is they would have thought such a thing impossible. How far we have come in just 70 years!
And now for something completely different. It has been raining this week. Did I say rain? I mean flooding! Huge torrential downpours accompanied by floods, high winds, and of course power cuts. This may have caused some amusement if not discomfort for some of us, but it caused plenty of hardship for thousands of households left without power for hours, even days at a time.
Besides a crane falling over in Tel Aviv, miraculously causing no injuries, Ynet has some pictures from the storm, from Herzlia, Raanana and Kfar Saba:
And in good old Petach Tikva. I took this clip out of my (dirty) office window. It still got worse before the waters receded.
However – there is an interesting upside to all this rain: A major rainstorm uncovered a 1,500 year old winery in the Sharon region – the "ground zero" of this week's storms:
A large, well-preserved 1,500-year-old winery has been exposed during a violent storm in the Sharon Plain region, located between the Mediterranean Sea and Samarian Hills, the Antiquities Authority announced Monday.

According to IAA archeologist Alla Nagorski, the discovery was made off the Eyal Interchange several weeks ago when flooding and hail disrupted an excavation at the site, where natural gas lines are scheduled to be embedded.

…

The northern part of the Sharon Plain is considered the most historical wine region in Israel, and is where the first roots of Israeli wine were planted in modern times.

When water was pumped from the site, Nagorski said the well-preserved winery was found. She described it as impressive and rare.

"It is evident that great thought was invested in the engineering and construction," she said. "The wine press is huge – 3 meters in diameter and 2 meters deep, and could accommodate 20 cubic meters of wine."
There's no cloud, not even a huge rain cloud, without a silver lining.  What an wonderful discovery! I find the juxtaposition of the ultra-modern (gas lines) next to the ancient winery quite fascinating, and so typical of our wonderful country.
And now, to close this week's installment on an even more positive note, I would remind all my readers of Caroline Ben-Ari's Big Birthday Project, in which she is raising funds for the OneFamily Fund. Read her story at my post here.
By my 60th birthday, which will be on November 4,  I want to raise $18,000 for OneFamily — specifically, for their Orphans Project.

OneFamily is a wonderful organization that provides support to thousands of people who have been bereaved and injured by terror attacks. As they say on their website:

OneFamily understands the trauma of bereavement and injury from terror. Our family can provide the key elements that lead to successful rehabilitation. With this level of trauma, comes a feeling of isolation by singular experience. The perception of being alone affects every element of the recovery and rebuilding process. Our presence and resources ensure that victims and their families never need to feel alone.
There's not much time left for Caroline's deadline. So go and make a donation!
Here are the ways to donate: If you are in the US, click this link.

If you are in Israel, Canada or the UK, click this link – but make sure you mention that the donation is for "Caroline's Birthday Project" (or for Caroline Ben-Ari) because it's not certain the Israeli page can identify that automatically like it does for the US donations page.

You can also keep up with the project, leave comments and share the project at Caroline's Facebook page that she set up for this purpose.
Help Caroline reach her target and help the OneFamily Fund in their vitally important work of supporting victims of terror.
I'm sure you will all join me in wishing Caroline Mazal Tov, Happy Birthday and many happy returns till 120!
And with these happy thoughts I wish you all a Shabbat Shalom.