We have had enough disaster, war, strife, and doom and gloom in the last few days and weeks to last us a lifetime. But now Purim is here and it's time to celebrate!
The festival began at sundown this evening  when we went to shul and heard the *Megillah being read, with the ra'ashanim (greggers) of various sorts – from toy gun caps to bells, whistles, rattling keys, even phone ringtones! – drowning out evil Haman's name every time it was mentioned; and there was lots of laughter at some of the funny costumes and hats that people turned up in (including yours truly in a very unbecoming purple wig.
).
We are now on our way to our neighbours' for a Purim party, complete with games and delicious food contributed by each of us, and I'm sure we're going to have a riot… (Well, not literally. I hope…) 😀
Our Mishloach Manot parcels are all wrapped and ready to be delivered tomorrow, and then we'll be off to our Seudah at our our daughter's house together with several generations of the wider family. Quiet it won't be…
♫ ♪
(* For a translation of the Hebrew words used here, please consult my Glossary page in the menu above.)
If you ever wondered how Purim was celebrated in Israel's early days, and even before the establishment of the State of Israel, the wonderful blog "Israel's History – A Picture A Day" brings us some extraordinary photos of long-ago celebrations:by Jews both in Israel and in the Diaspora. Here is a photo of the Purim Adloyada* parade in Tel Aviv in 1934:
The blog points us to a fantastic film of the Purim Adloyada* parade of 1932. Watch it for a dose of real nostalgia:
This parade is astonishing for its size, both the number of floats and the numbers of the audience. Most of Israel's population at the time must have attended!  These Adloyada parades still take place today in many major towns in Israel, but there's nothing quite like
*Adloyada – ad de'lo yada – means literally "until he didn't know". One of hte mitzvot of Purim is to get so drunk that "he can't know' the difference between teh evil Haman and the Jewish hero Morderchai.
Back to modern times, in a story vaguely reminiscent of the Purim story, the remnants of another Middle Eastern Jewish community, this time from Yemen, were rescued by Israel this week:
Nineteen Yemeni Jews, among the last of their community living in that war-torn country, arrived in Israel after a secret rescue mission on Sunday night.

The rescue of the Jews, who have been increasingly imperiled by the civil war in the country and the rise of anti-Semitic jihadi groups, was reportedly coordinated by the Jewish Agency for Israel and the U.S. State Department. The rescue was especially surprising as Israel has no diplomatic relations with Yemen and the United States closed its embassy in the country when the war began, while Saudi Arabia, which Israel also has no formal relations with, has imposed a blockade on Yemen.

Approximately 50 Jews remain in Yemen, 40 of them in a government-protected compound in Sana'a. Several hundred Jews have been rescued from Yemen in the past few years, including several dozen in recent months, the Jewish Agency announced. Anti-Semitism and violence against Yemeni Jews has increased since the 2008 murder of Jewish teacher Moshe Ya'ish Nahari. The family of Aharon Zindani, who was killed what was believed to be an anti-Semitic attack in 2012, were among those brought to Israel, accompanied by Zindani's remains. Also on the trip was Rabbi Saliman Dahari, who brought a Torah scroll that is believed to be between 500 and 600 years old.

"This is a highly significant moment in the history of Israel and of aliyah," Jewish Agency chairman said in a statement. "From Operation Magic Carpet in 1949 until the present day, the Jewish Agency has helped bring Yemenite Jewry home to Israel. Today we bring that historic mission to a close. This chapter in the history of one of the world's oldest Jewish communities is coming to an end, but Yemenite Jewry's unique, 2,000-year-old contribution to the Jewish people will continue in the State of Israel."

Nearly 50,000 Yemeni Jews arrived in Operation Magic Carpet, and they and their descendants have played prominent roles in Israeli society, including singer Ofra Haza, Olympic medalist Shahar Tzuberi, and former Knesset Speaker Yisrael Yeshayahu.

…

A video of Netanyahu greeting them and briefly reading from the Torah scroll is embedded below.
Sadly it looks like the last 40-50 Jews in Yemen refuse to join their brethren here in safety in Israel. Let us pray that G-d will keep them safe and look after them, because no one else is going to do so.
Back to the Purim spirit, here is an Only in Israel Purim photo. Can you imagine such a photo being taken anywhere else in the world?
But – one piece of advice when dressing up: listen carefully to what your child (or your pet) really wants… 😀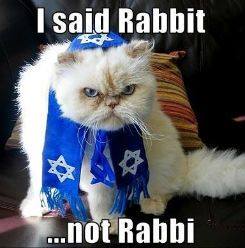 Happy Purim!
!פורים שמח